Since CoCreate coworking space is a place to meet, engage and work with new interesting creatives, we decided to use this platform to talk about incredible people we met along the way. Some of them stay longer at CoCreate, influencing the creative atmosphere of the entire place (we will save it for the next post) and some of them pop up only for a day, during their trip around Portugal.
Say hello to Alex!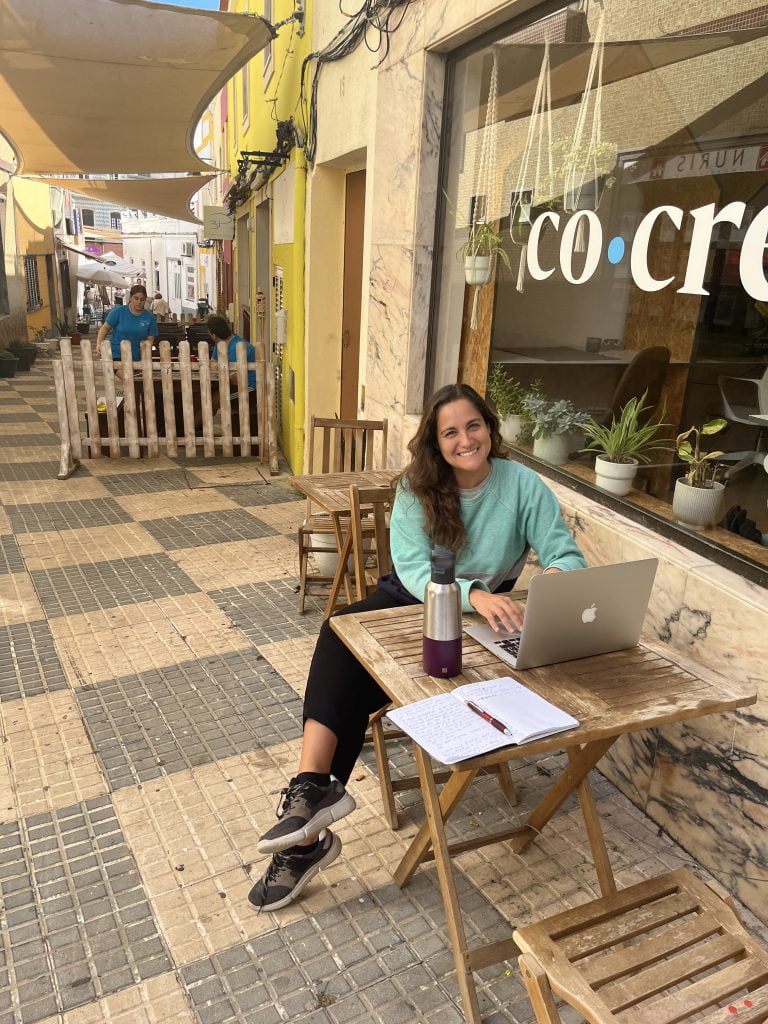 This story is about Alexandra Ribeiro, a young woman, who was glad to share her creative experiences and imaginative mind with us. Being a creative graphic designer herself, she is one of those people who compliments the CoCreate coworking space with her joyous personality filled with passion, inspiration and creativity.  Alexandra is 29 years old Portuguese, who likes to be called just Alex, is from a small town in the middle of Portugal called Mação. She likes to joke about it saying that most Portuguese people do not even know about this town, because it is that small. Everyone in her family, or the many generations of her ancestors, resides or has lived in this town, according to Alex. She was one of the first people to relocate this far south to live in Portimao, an Algarve city.
The graphic designer spent years traveling and working as a digital nomad in numerous nations after completing her degree in Lisbon. After returning from her travels, Alex set up her residence in Peniche, a seaside municipality in the Leiria District of Central Portugal. Even though she currently resides in Portimao, Peniche holds a big place in her life which is packed with her creative endeavours, close friends, and a lifestyle resembling sport – surfing.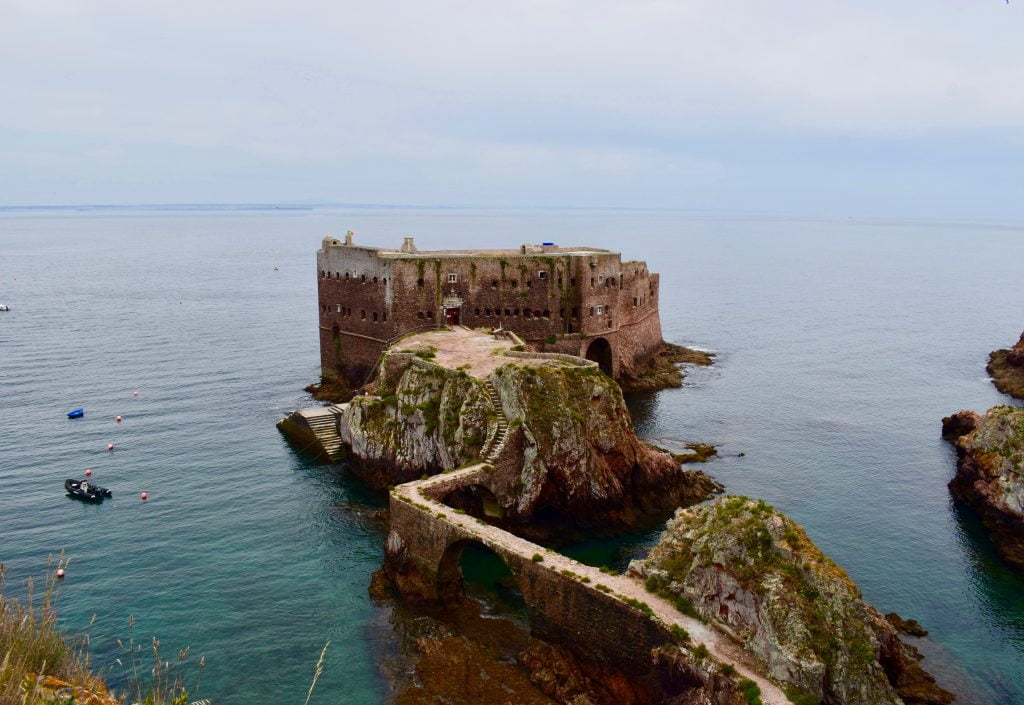 Alexandra is a graphic designer, who began working with various brands where she handles all aspects of brand communication, including marketing, social media, and, of course, graphic design.
Here is a brief excerpt from the original conversation with Alex helping to get a little connection to what she is about:
-So, Alex, do you enjoy the things you do for work?
-Yes, I enjoy it, especially that I work so broadly, not only focusing on graphic design, but also including the communication part of a company,  as well as its brand positioning. That makes my job more dynamic and changing.
-What is the inspiration behind your work?
-I have been mostly working with smaller companies and the advantage of working with them, I think, was seeing the results faster, where you can also notice how it impacts people personally, they get more excited about how things evolve and I love the part where you can really see that your work is making the difference. That is one of the reasons why I enjoy working in this environment. 
-It seems that you are very fulfilled with your job?
-Yes (smiles), I can say that I am in a good place right now, where I can make a lot of difference for brands that I am working with. I feel there is a lot of potential to grow and I have many many more ideas so in that sense I feel very fulfilled. Other times I feel that I want to do so much that I can even get overwhelmed with the creativity, but that is probably every creative's struggle. 
-So where do you see your career going in the future?
-Honestly careerwise, speaking about the presence, I feel that I am on the right path or where I should be. Maybe I can see myself delegating more of my work in a way that instead of doing everything by myself when it comes to creating a brand image, I could rather direct or give guidance to others. Well, but besides my work, I would like to be focusing more on separate and personal projects, which would be more of a fun stuff, but as well would go parallel to my job. I feel that in my lifetime I would like to do more hobbies. For example when I was in a lockdown I decided to draw a sun everyday to share positivity with the others. It was not only drawing a sun, but it was something like 5 minutes of creativity everyday, which included not only drawing, sometimes it would be photography, sometimes animation. 
These 5 minutes of daily life have evolved into a project called "Sunny Everyday" which Alexandra  started  in 2020 during the lockdown in Portugal caused by the global virus. The exhibition was shared in one of the Peniche City galleries called Rabeca Ferrel. As she explains, "For me it was so to say a win-win situation where I would bring some positivity to the world and make myself feel happier as well".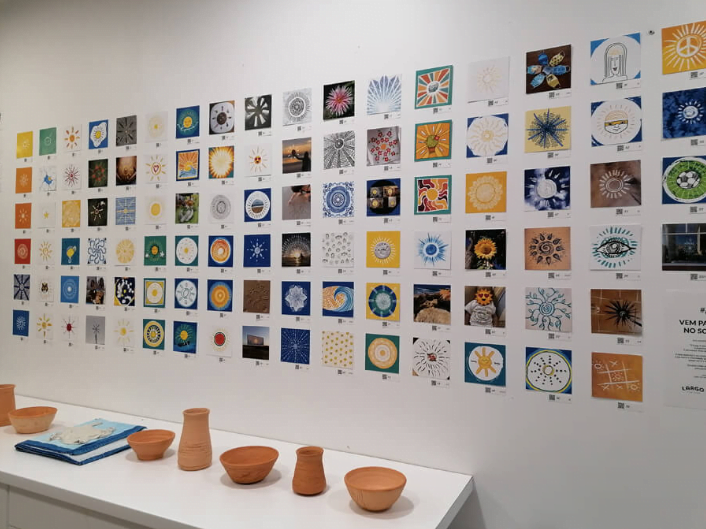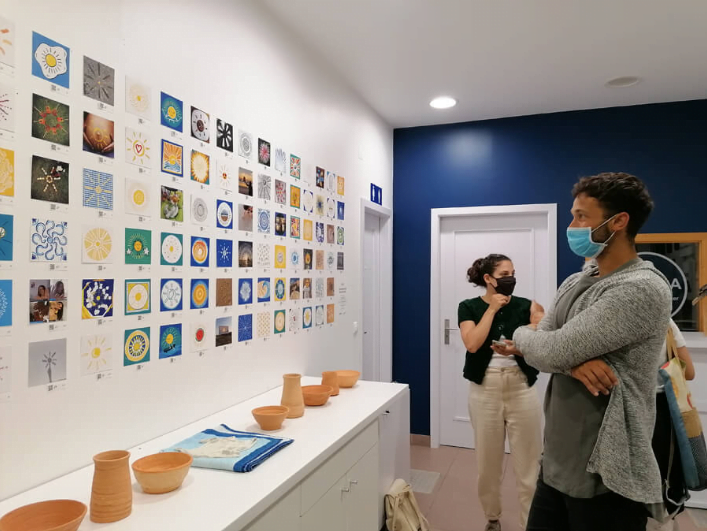 Along with the Sunny Everyday exhibition in the gallery, people were invited to join in making art by drawing the sun and happiness on the windows of Largo Space, one of Peniche's coworking spaces where Alex used to work from earlier. 
The participants drew and painted various shapes and forms of joy and sunlight, while supporting the idea by wearing Alex's created sunny face masks as a shield from the virus, which were produced in a collaboration with a manufacturer company. Later on the collaboration has been extended with production of hoodies, t-shirts and notebooks from the same Sunny Everyday collection.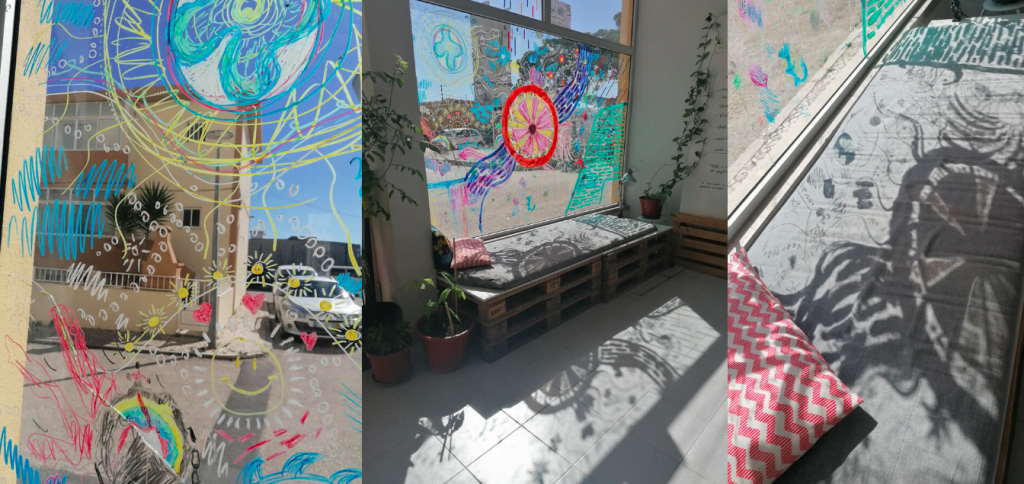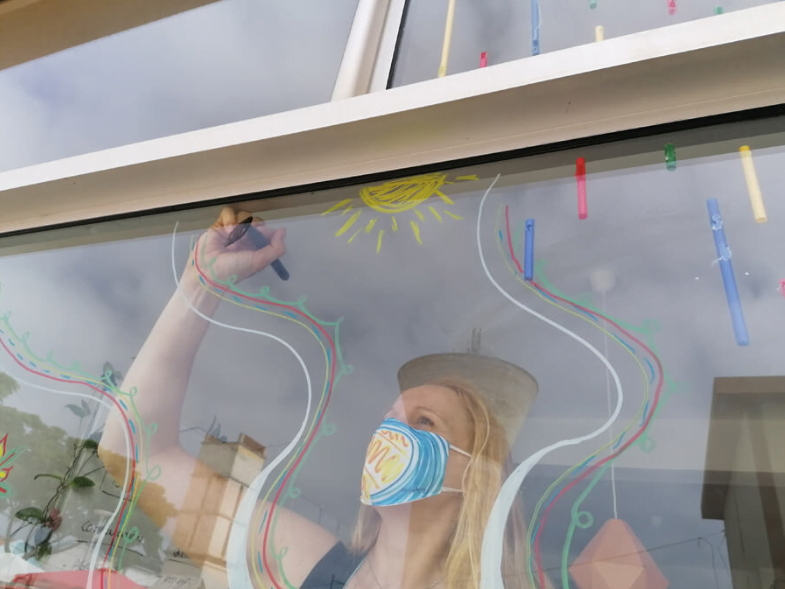 Pictures from Largo Space coworking in Peniche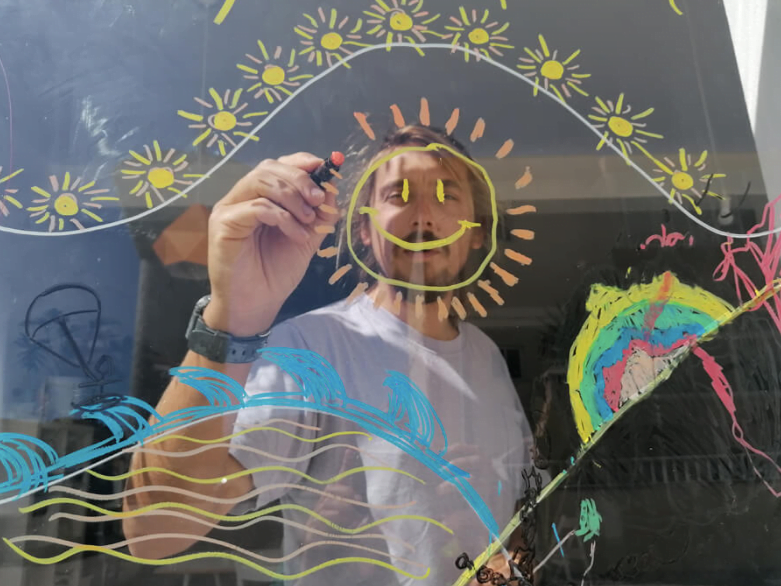 When talking to Alex, you can feel the warm excitement and enthusiasm that wells up from the depths of her heart. Alexandra did not let the CoCreate coworking space slide through her mind unnoticed. She has been using this coworking space for the last six months, and ever since she started working from CoCreate, she has been drawn to its intimate, cosy ambiance, which is bright and full of flowers. At CoCreate, she made acquaintances that she is now able to call friends and even working partners. She was recommended by a fellow coworking members to one of their clients and Alex has been working with them ever since. The finest aspect of working at CoCreate, she explains, is that you have regular visitors with whom you maintain tight ties while also having the opportunity to interact with new people who visit for a day or two. People frequently debate or seek out other's opinions on many issues, such as design, which makes me feel motivated and inspired while working from CoCreate.
To find out more about Alex's work and follow her journey:
https://www.instagram.com/sunnyyyeveryday/