A workation is when you work remotely while also taking a vacation in a new location. It's a great way to mix work and leisure, and get a change of scenery while still being able to get things done. Many people find that working in a new location can be really inspiring and help boost productivity, so it's a win-win situation!
The idea behind a workation is to take a break from your regular routine and work in a different environment, while also exploring and enjoying the local area. This could mean going to a beach destination and working from a hotel room or a coworking space, or it could mean traveling to a city and working from a coffee shop or a coworking space there.
The key is to find a location that offers a good balance of work-friendly amenities and local attractions to explore. Some people like to plan their workations around specific activities or events, such as attending a conference or festival, while others prefer to take a more relaxed approach and just go with the flow. Whatever your preference, a workation can be a great way to mix business with pleasure!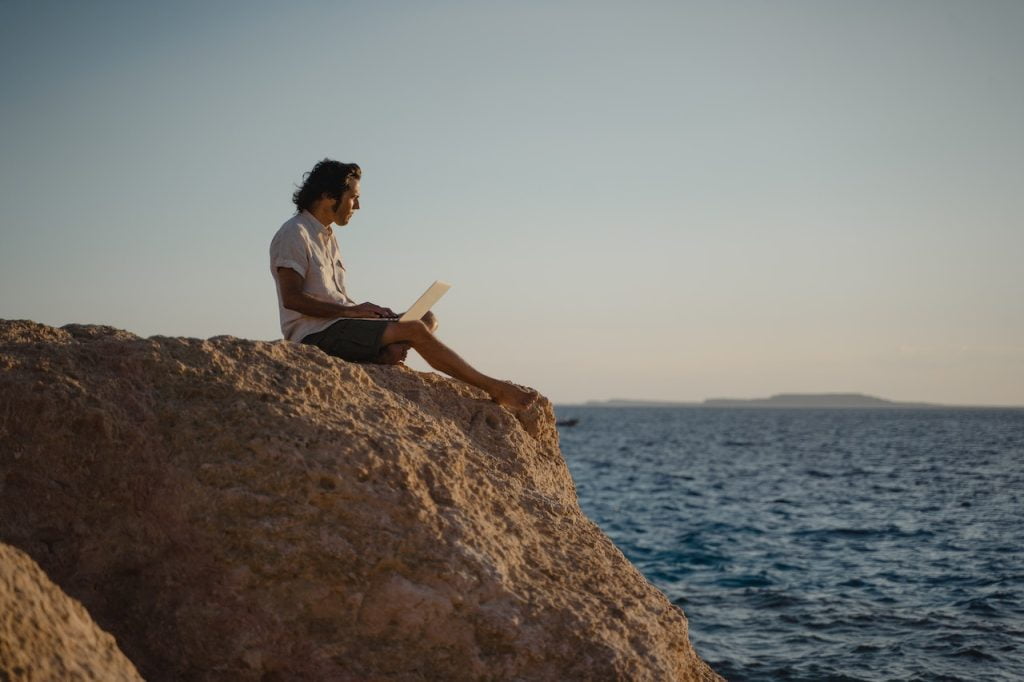 Why Portugal is a great choice for workationers
Portugal is a great destination for workations for a number of reasons. Here are a few of the main reasons why people choose to work from Portugal:
Affordable cost of living: Portugal is generally known for its affordable cost of living, which can make it an attractive destination for those who want to stretch their budget further. This can be especially appealing for those who are planning to work remotely while traveling.
Good infrastructure: Portugal has a well-developed infrastructure, with a range of accommodation options and good internet connectivity throughout the country. This makes it easy to find a comfortable and reliable place to work while you're on a workation.
Vibrant culture: Portugal is known for its rich culture, history, and traditions, making it a great destination for those who are interested in exploring new places and learning about different cultures.
Beautiful natural surroundings: Portugal has a diverse landscape, with everything from sandy beaches and rolling hills to forests and mountains. This makes it a great destination for those who enjoy spending time in nature.
Good food and wine: Portugal is known for its delicious food and wine, so you'll have plenty of opportunities to indulge in local specialties while you're on a workation.
Overall, Portugal is a great destination for workations due to its combination of affordability, good infrastructure, vibrant culture, beautiful natural surroundings, and delicious food and wine.
Workation in Portimão
There are a number of reasons why someone might consider working from Portimão on a workation:
Beautiful location: Portimão is located on the southern coast of Portugal, in the Algarve region, known for its beautiful beaches, clear waters, and sunny climate. This makes it a great destination for those who want to work in a beautiful and relaxing location.
Cheaper than Lisbon or Porto
Interesting cultural and historical attractions, such as the Museum of Portimão and the Portimão Marina.
Diverse range of activities: In addition to its beautiful location and cultural attractions, Portimão also offers a range of activities for those who want to take a break from work and explore the area, such as swimming, sunbathing, and water sports.
Great coworking community: With Portimao digital nomads group having over 1000 members its a great place to connect with other digital workers as well as locals.
If your interested to learn more about workationing in Portimao, Portugal then please check out our homepage for more information!